B & B
Open all year (but it is better to book in advance: the rooms are not all the time ready to welcome you).
Bedrooms (with each their separate bathroom and WC in the corridor): 45.00 € per night
This price includes breakfast for one or two persons per room.
For one more bed in a bedroom and one more breakfast, add 15.00 € (adult) or 10.00 € (child)
We have extra bedrooms that must use bathroom and WC of one of the main bedrooms and cannot therefore be hired separately but are convenient for families.

* * * * *


Gîte (a house with 5 rooms)

Boconnec is open all year long.
There are 5 rooms, 2 bathrooms, 2 WC, a kitchen / dining room.
Per week:
- january - april: 380 € per week
- may, june: 480 € per week
- july, august: 580 € per week
- september, october: 480 € per week
- november, and till december 21st: 380 € per week
Per night:
- one night: 160 €
- 2 nights: 260 €
- one whole week-end (3 nights): 360 €
Sheets and towels:
Bed sheets and bath towels are not included in the gite price. We can provide them, add 8,00 € per room
* * * * *

Pets ?

We have no objection to pets inside the rooms... the problem is
outside
. Even very gentle dogs tend to run towards our goats and sheep. Dogs may be allowed to run free inside the rooms and in the forest, but when near the houses and field we must ask you to keep them on leash and under control.
* * * * *
More service
We can provide picnic bags: 8,00 € each
(please ask in advance)
.
* * * * *
Re-enactors friendly

Patrice has worked for many years as a professional actor in historical displays and festivals, and before that he was one of the founder members of the
Guilde de Bretagne
(the regional federation of LARP and wargame clubs of Brittany). He is always glad to welcome fellow re-enactors.
You may even hire one of our medieval tents replicas if you wish to spend one evening sitting round a campfire in the middle of our field. Firewood will be free.
(Gîte or B&B customers only – we are not a registered camping site)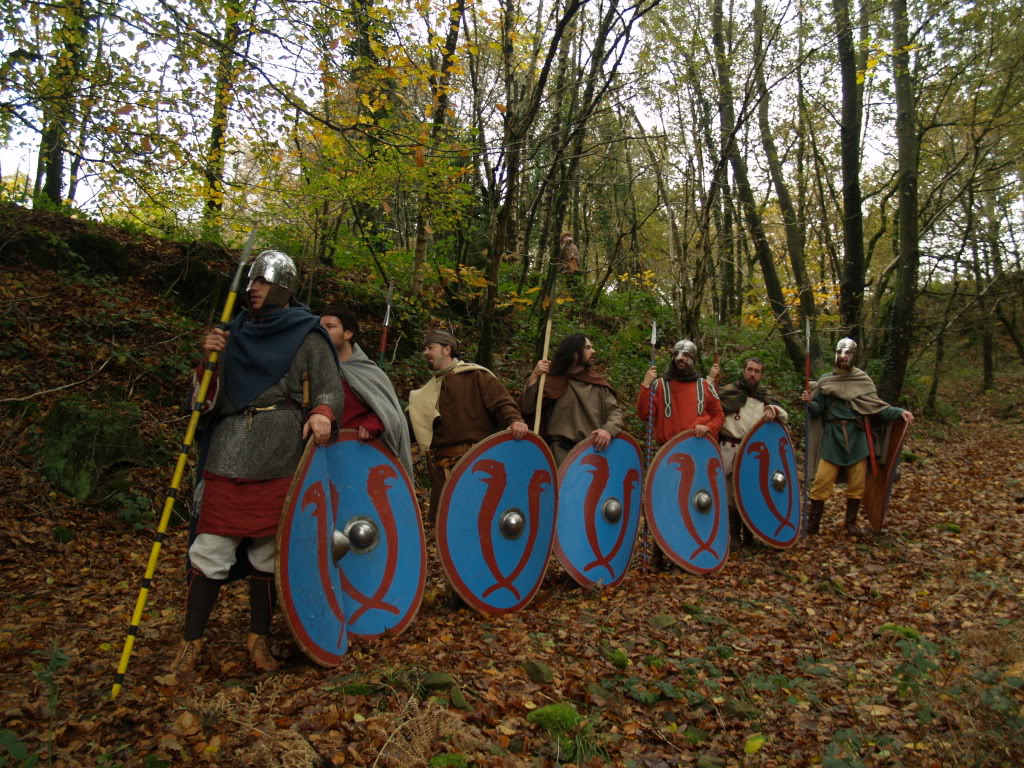 "Letavia", a little group of 5th C. Sub-Roman Bretons,
sometimes comes to Boconnec for training.





One hundred of people taking part in a "live role-playing game" in Boconnec, May 2011.